I was recently looking for some post ideas that were book-related, but weren't specifically book reviews because I have been in a bit of a slump lately and have not been able to finish a book in about a month. One prompt that stood out to me was, What are books that you love, but don't own? And it got me thinking. There certainly are books that I've read and loved in the past, but for whatever reason I don't currently own.
A lot of the books I've compiled are, admittedly, children's/middle-grade novels, which might explain why I don't currently own these stories. As a kid, I went to the library a lot with my grandma, and also made use of the library at my elementary school. And apart from that, I went through a phase in middle-high school when I gave away a bunch of books because I wasn't reading them and couldn't imagine reading them again (shame on me!!)
I would love to repurchase and reread all of these stories. As I sat here compiling my list, I felt very nostalgic for my childhood and all of the great memories I have reading these books in my living room, at my grandma's house, at school… To be honest, I don't remember most of the plots for these books, or even the characters' names. What I do remember is the magical feeling I had when reading these stories. You may not remember it, but most people read tons of stories as a kid, so the ones that stick out to you when looking back are the ones that clearly made an impact on you. These were those books for me.
So, without further ado, let's get on to the Books I Loved, But Don't Own!
A Wrinkle in Time (Time Quintet)
and A Wind in the Door (A Wrinkle in Time Quintet)
by Madeleine L'Engle
Goodreads description for A Wrinkle in Time:
It was a dark and stormy night; Meg Murry, her small brother Charles Wallace, and her mother had come down to the kitchen for a midnight snack when they were upset by the arrival of a most disturbing stranger.
"Wild nights are my glory," the unearthly stranger told them. "I just got caught in a downdraft and blown off course. Let me be on my way. Speaking of way, by the way, there is such a thing as a tesseract".
Meg's father had been experimenting with this fifth dimension of time travel when he mysteriously disappeared. Now the time has come for Meg, her friend Calvin, and Charles Wallace to rescue him. But can they outwit the forces of evil they will encounter on their heart-stopping journey through space?
Goodreads description for A Wind in the Door:
A Wind in the Door is a fantastic adventure story involving Meg Murry, her small brother Charles Wallace, and Calvin O'Keefe, the chief characters of A Wrinkle in Time. The seed from which the story grows is a rather ordinary situation of Charles Wallace's having difficulty in adapting to school. He is extremely bright, so much so that he gets punched around a lot for being "different". He is also strangely, seriously ill (mitochondritis – the destruction of farandolae, minute creatures of the mitochondria in the blood). Determined to help Charles Wallace in school, Meg pays a visit to his principal, Mr. Jenkins, a dry, cold man with whom Meg herself has had unfortunate run-ins. The interview with Mr. Jenkins goes badly and Meg worriedly returns home to find Charles Wallace waiting for her. "There are," he announces, "dragons in the twins' vegetable garden. Or there were. They've moved to the north pasture now."
Dragons? Not really, but an entity, a being stranger by far than dragons; and the encounter with this alien creature is only the first step that leads Meg, Calvin, and Mr. Jenkins out into galactic space, and then into the unimaginable small world of a mitochondrion. And, at last, safely, triumphantly, home.
I remember reading A Wrinkle in Time and A Wind in the Door very, very early on. These books, which are a part of (officially) a quartet, feature many of the same characters but in differing story lines. As a child, I thought this was a really cool concept. Series are great and all, but I love to see snippets of characters' lives in various settings, particularly when they're characters I loved so much. Because this is a quartet, you don't necessarily have to read all of the books, or even read them in a specific order (I think). I read two from this quartet.
A Wrinkle in Time was an incredibly magical story to me, and I think that largely had to do with the fact that it dealt with other-dimensions and time-travel. As a child, I remember that in Madeleine L'Engle's writing, this felt more like fantasy than, say, science fiction, where time-travel might be found more often.
 Crispin: The Cross of Lead
 by Avi
Goodreads description:
"Asta's Son" is all he's ever been called. The lack of a name is appropriate, because he and his mother are but poor peasants in 14th century medieval England. But this thirteen-year-old boy who thought he had little to lose soon finds himself with even less – no home, no family, or possessions. Accused of a crime he did not commit, he may be killed on sight, by anyone. If he wishes to remain alive, he must flee his tiny village. All the boy takes with him is a newly revealed name – Crispin – and his mother's cross of lead.
Ah, the chase. The chase, the action, and the heart-pounding suspense. I'll be entirely honest with you, I didn't exactly realize this was a Christian text when I was a kid reading this for the first (and second) time. It wasn't even until I mentioned this book to my BF and he said told me that. I can't personally recall whether or not there were heavy Christian themes in this novel, but I would assume there is an element. Because, you know. The cross.
There was a wonderful amount of suspense and mystery surrounding the plot of this novel that I picked up on and really stuck with me while I read this story. Though it's been years, I can still remember the feelings of anxiety and curiosity I had while reading. I believe this might also be a part of a series (or duology), though I only ever read Crispin.
Inkheart
and Inkspell by Cornelia Funke
Goodreads description for Inkheart:
Twelve-year-old Meggie learns that her father, who repairs and binds books for a living, can "read" fictional characters to life when one of those characters abducts them and tries to force him into service.
Characters from books literally leap off the page in this engrossing fantasy. Meggie has had her father to herself since her mother went away when she was young. Mo taught her to read when she was five, and the two share a mutual love of books. He can "read" characters out of books. When she was three, he read aloud from a book called Inkheart and released characters into the real world. At the same time, Meggie's mother disappeared into the story. This "story within a story" will delight not just fantasy fans, but all readers who like an exciting plot with larger-than-life characters.
The Inkheart
 stories are fantastic if you have a middle-grade level child/sibling/friend/etc. who adores reading. I loved books as a kid (duh, how many times will I say this haha), and the idea that the characters in my books could come to life, or that I could jump into these stories and find myself in their settings was actually magical. I spent so much time fantasizing about being in my favorite worlds, enjoying time with my favorite characters and running from my favorite villains. And speaking of villains, I remember I really enjoyed the villain(s) in this story, though I can't exactly remember why (ah sorry!). It's just one of those feelings that has stuck with me – I think I remember them as mysterious, and cruel, and incredibly interesting.
I read the first two books in this series, but never got around to the third. This is definitely a series I'm going to look into re-purchasing so that I can reread this series and experience the magic all over again.
The Thief Lord
by Cornelia Funke
Goodreads description:
"Do you sometimes wish you were grown-up?" Venice. Autumn.
Rich Aunt Esther wants only angelic orphan Boniface 5, not serious Prospero 12. She hires PI Victor Getz. Thief Lord Scipo brings loot, clothes, to runaways in abandoned theatre Stella. Hornet adds brothers to gang with tall Mosca and scrawny Riccio.
But Scipio hides a secret. And old Conte from a cursed isle wants a wooden wing, from grown orphan photographer Ida Spaveno, for his magic merry-go-round that changes ages. Interior illustrations by author.
The Thief Lord is one of the books that has stuck with me since the day I read it. It has even inspired characters for stories that I plan to write in the future. As a kid, there's something so intriguing about other kids living the "rogue" life – something so different from the life I lived. And it was so interesting to read something set in Italy, which felt like such a foreign place to me as a kid. Everything about this story was full of intrigue and interest, and I absolutely adored it.
Goodreads description for The Giver:
This haunting story centers on Jonas, who lives in a seemingly ideal, if colorless, world of conformity and contentment. Not until he's given his life assignment as the Receiver of Memory does he begin to understand the dark, complex secrets behind his fragile community.
Goodreads description for Messenger:
Matty has lived in Village and flourished under the guidance of Seer, a blind man known for his special sight. Village once welcomed newcomers, but something sinister has seeped into Village and the people have voted to close it to outsiders. Matty has been invaluable as a messenger. Now he must risk everything to make one last journey through the treacherous forest with his only weapon, a power he unexpectedly discovers within himself.
The Giver recently received a small resurgence in popularity thanks to it being made into a movie in 2014 (check out The Giver DVD
here!) I remember I really, really liked the cast for this movie. Oh yeah. This story blew my mind as a kid. Lois Lowry perfectly sets things up, providing young kids with a suitable dystopian-genre novel, while slowly revealing that this world isn't quite what it seems at first. What really struck me, and I hope this doesn't spoil anything, was the realization that the world that Jonas lives in can't see color. And when he begins to see color, but doesn't know how to describe it – only that the apple "changed" – it really brought big ideas and thoughts and questions to my 9-year old mind. How do you describe color to someone who has never seen it? This story was incredibly thought-provoking, and I would definitely recommend it to any young reader.
Messenger is a companion book to The Giver, like the A Wrinkle in Time quartet. Not quite a sequel, but it explores the same world. I had another really interesting experience reading these stories because while they mostly featured new, unique characters, some characters from the other books would crossover and make little cameo appearances in the others. This has really inspired me as a writer, and opened my mind to the literary world and worlds of fantasy and fiction as a young reader.
Where the Red Fern Grows
 by Wilson Rawls
Goodreads description:
A loving threesome, they ranged the dark hills and river bottoms of Cherokee country. Old Dan had the brawn. Little Ann had the brains, and Billy had the will to make them into the finest hunting team in the valley. Glory and victory were coming to them, but sadness waited too. Where the Red Fern Grows is an exciting tale of love and adventure you'll never forget.
Where the Red Fern Grows
 has, for a long time, been one of my all-time favorite books. Period. The relationship that Billy shares with his two dogs has stuck with me way past childhood. While I've never known anything about hunting, living in a rural life, or even owning a dog (when I was younger), this book really touched me and connected to me. It taught me about perseverance against all odds, and about friendship and loyalty. I would highly recommend this for all young readers!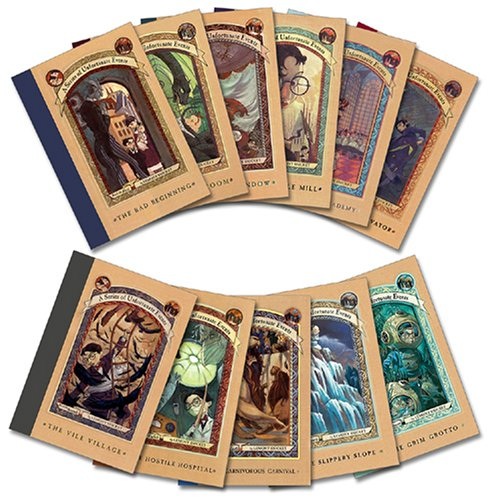 A Series of Unfortunate Events by Lemony Snicket
Goodreads description for The Bad Beginning:
"Dear Reader,
I'm sorry to say that the book you are holding in your hands is extremely unpleasant. It tells an unhappy tale about three very unlucky children. Even though they are charming and clever, the Baudelaire siblings lead lives filled with misery and woe. From the very first page of this book when the children are at the beach and receive terrible news, continuing on through the entire story, disaster lurks at their heels. One might say they are magnets for misfortune.
In this short book alone, the three youngsters encounter a greedy and repulsive villain, itchy clothing, a disastrous fire, a plot to steal their fortune, and cold porridge for breakfast.
It is my sad duty to write down these unpleasant tales, but there is nothing stopping you from putting this book down at once and reading something happy, if you prefer that sort of thing.
With all due respect,
Lemony Snicket"
It seems that nearly every kid of my generation read these books growing up, and for good reason. A Series of Unfortunate Events is an easily digestible, mysterious, quirky read about young siblings who just can't seem to catch a break. It's intellectually stimulating, and colored my imagination with each of the books' unique settings and characters. I loved the narration style of Lemony Snicket, and the interjection of the narrator's thoughts and comments was a new concept to me when I read this as a kid. The books did a good job of including one long-running villain throughout the series who you love to hate, Count Olaf, as well as others who trickle in here and there. With intelligent and inventive characters to connect with, this series taught me about cleverness and wit.
The Twilight
saga by Stephenie Meyer
Goodreads description for Twilight:
About three things I was absolutely positive.
First, Edward was a vampire.
Second, there was a part of him—and I didn't know how dominant that part might be—that thirsted for my blood.
And third, I was unconditionally and irrevocably in love with him.
In the first book of the Twilight Saga, internationally bestselling author Stephenie Meyer introduces Bella Swan and Edward Cullen, a pair of star-crossed lovers whose forbidden relationship ripens against the backdrop of small-town suspicion and a mysterious coven of vampires. This is a love story with bite.
Now, don't hate me for putting this series in here. Ha! I loved the Twilight
saga when I read this around middle school, as much of the nation fell for its gothic yet modern vampiric charms. This isn't necessarily a series I would recommend to anyone in particular, I only wanted to mention it because it really meant a lot to me when I read it as a young teen and because I have since loaned out/donated my copies of this series. Although incredibly cliche, and now hyper-analyzed for its messages about young romances, I will always appreciate this series.
At the end of the day, I find that I am sad to not own all of these wonderful books that have meant so much to me in the past and have helped me become the reader I am today. Reading at a young age is so critical to forming thinking patterns, creative problem solving skills, and expanding imaginations. Looking back at these stories is like remembering a colorful memory from the past. Repurchasing these books would help me to re-live some of those moments.
Are there books that you have read and loved in the past, but now no longer own? Would you ever consider going back and rereading or re-purchasing those books? Would you rather move on to newer stories, or revisit the old ones? I would love to know which stories have meant a lot to you in the past.
*Disclosure: This post contains affiliate links. If you purchase something through this link, I will be compensated with a percentage of that purchase at no additional cost to you. I will never post a link to something I have not personally bought and enjoyed myself. Affiliate links help me to continue bettering my website and content for you readers.